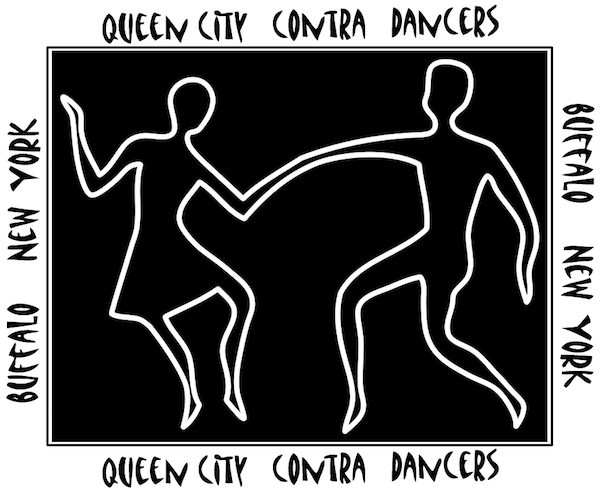 Queen City Contra Dancers Buffalo NY
Friday,
November 10, 2023
7:30pm
(Contra basics at 7:00pm)
ViolHabits
Kathleen Howard-Petersen,  Kary Askin & Cheryl Rich
Join us from way out west with some varied and fun tunes.
Friday,
December 8th, 2023
7:30pm
(Contra basics at 7:00pm)
Stay Tuned to this Station

more information forthcoming
We are back & dancing!!! Come join us!
The Queen City Contra Dancers' board has determined that our dances are now open to everyone regardless of your vaccination status.  No testing required, masking is optional but it is encouraged. 
The return of snacks! 
You may once again bring snacks; however, they must be individually packaged.  There will be no food prep in the kitchen, no coffee offered.
As always, you dance "at your own risk."
General Information
Dance location "Home" site:
UU Church, 695 Elmwood Ave, Buffalo, NY 
 *  Sometimes we dance on 5th Saturdays, too!
*  Most dances run from 7:30 PM – 10:30 PM.
*  Contra-basics for newcomer friends at 7:00 PM
*  No partner required. Come alone, or with friends and family, or with a significant other, just come!
*  No experience required. Beginners welcome! All dances are taught and walked through.
*  No special outfits required. We recommend loose, breathable      clothing and clean, flat, soft-soled shoes. Sneakers and Hush Puppies are good. Cowboy boots and high heels are NOT good; not only do those shoes damage wooden dance floors, but they are difficult to move around in, and we do move around!
*  Windows and doors will be open and fans in place to aid in ventilation.
*  Parking is available street side, additional parking is at Parish Commons located on the opposite West Ferry and Elmwood Corners. Some limited parking in the lot next to the church is usually for set up/take down crew, band and caller, if arriving after 7 pm and there is space, please feel free to park there. Please DO NOT park in the bank lot, you most likely will be towed.
Admission:
General admission: Suggested amount $10.00 (Pay more if you can, less if you cannot.)
Members: $8.00  (Pay more if you can, less if you cannot.)
Children under 12: Free
Spectators: A donation to help compensate the band
 Join QCCD and get $2 off admission
*  All Queen City dances are smoke-free and alcohol-free.
*  You are dancing at your own risk at all times.
Dancing Gems or "Heard on the Floor"
Contra Dance is to …"walk around to music and act friendly…" – Andy Davis, caller, organizer, musician
"Go forward with purpose!" – Nils Fredland, caller, musician
Queen City Contra Dancers Buffalo NY regrets the necessity of reminding you that all pages are copyright (C) 2023, all rights reserved.
No portion of it may be reproduced in any form without permission.